COVID-19: Health Minister Commissions 50-Bed Isolation Facility In Abia, Applauds Concerned Abia Professionals
The Minister of State for Health, Senator Dr. Adeleke Mamora, has expressed satisfaction over the synergy between the Federal and State Government's, Abians in the Diaspora and other professionals for coming together to support government through selfless services.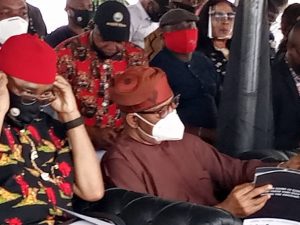 Adeleke made his thoughts known during the commissioning of the Abia Care Center, a 50-Bed Isolation facility with Molecular Laboratory donated by the group and situated inside the Federal Medical Center, Umuahia.
Also read: Abia Care Center: An NCDC Approved Ultramodern Medical Facility Sets to be commissioned on October 11
He commended the initiator of the project, Mrs Ngozi Ekeoma, and her team, for the work they have done in establishing the project in the State and assured that them that the federal Government will do everything in its power to assist FMC Umuahia to ensure that the facility is put into good use.
He later thanked all that contributed to the success of the project along with the CMD of FMC Umuahia, Dr Onyebuchi Azubuike, for his efforts in making the new center a reality.
In his remarks, the Senator representing Abia South Senatorial District, Sen. Enyinnaya Abaribe, described the project as a reminder of the need for Abians to be patriotic and put Abia first in whatever they do as well as to be passionate about her development.
He commended the commitment of members of concerned Abia Professionals in delivering the project.
Also Speaking, the Director General, Nigerian Center for Disease Control (NCDC) Dr. Chikwe Ihekweazu said the successful commissioning of the new Abia Care Center for Covid-19 patients and those of other diseases exemplified the true spirit of Abians rallying round their State irrespective of political differences for the common good of the people.
Earlier, in her address, the initiator of the Abia Care Center, Mrs. Ngozi Ekeoma said she was led to undertake the project sited in FMC Umuahia in the wake of the COVID-19 pandemic and the need for Abians and all to give back to the society by being patriotic, and lauded all that contributed to the success of the project which will serve as a benchmark for the replication of more of such projects in the State.