Marcellinus Anyanwu has recently been appointed as the coach of the Arsenal U-17team at the Arsenal Soccer SAchool in Dubai. He was the former MFM FC assistant coach when Nduka Ugbade was in charge of the NPFL club. He has enjoyed steady rise in the United Arab Emirates since 2013.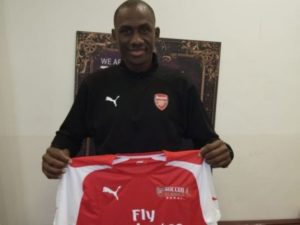 Marcellinus Anyanwu announced his arrival in Nigeria by winning the Inter Church Festival Football tournament with the Holy Trinity Anglican Church team in 2013. It was a competition that had all churches in Dubai competing for the trophy. Anyanwu joined Universal Sports Club after his exploits with the Holy Trinity Anglican Church.
Also read: Jayden Adetiba, 9-Year-Old Nigerian Wonder Kid Signed By Arsenal
Marcellinus Anyanwu was in charge of the U-16 academy and the school league team. He won three trophies with the Universal Sports Club. He also had a stint with the German International School Sharjah UAE in 2017.
Marcellinus was born in Owerri, Imo state, and his role model is the Italian Marcelo Lippi. He became the first Nigerian to be appointed as a coach of the Arsenal Soccer Club in Dubai, UAE. He is popularly called Marcelo Lippi by his players. In 2011, Marcellinus was an assistant coach for Imo state at the sports festival in Port Harcourt.
In an exclusive interview, Anyanwu said:
I am very excited to be part of the Arsenal Soccer School as a coach, it feels good to have been chosen to impact my knowledge on the team.

"I am ready to train, teach and tell the young lads about the philosophy of Arsenal football club."

The Imo State indigene also revealed that he will like to contribute to the development of football in Nigeria at the youth level.

"With the experience and exposure i have gained over the years in grassroots football, I can take Nigeria to the next level," he said.

Marcellinus  Anyanwu holds a Diploma Certificate in coaching and Training from the Nigerian Institute of Sports (NIS), Lagos. He also has international coaching certificates from the English FA and the Italian FA.