Jayden Adetiba is the name that is currently trending academy football world of today. He is the 9-year-old Nigerian that was currently signed by Arsenal FC in London. He was actually discovered in an academy in South Africa.
Nigerian-born, Jayden Adetiba recently sealed a deal with the Gunners, after spending five good weeks on trial in South Africa, under the watch of the club's academy bosses. The wonder kid, who is just 9 years old, has lived in the United Kingdom previously. Though he has spent ,most his life in South Africa where he played for Super Sport United Soccer School.
Also read: The Importance of Civic Education in Nigerian Schools, Concept and Meaning
John, Jayden Adetiba's father, recently shared an image of his son signing his deal on his Twitter account, as you can see from the image below.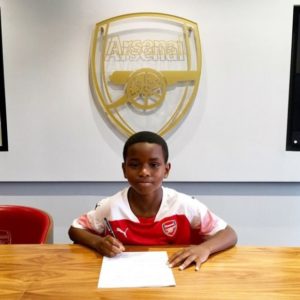 He wrote: "The little man joins the big club!!"
Speaking to The Sun UK, the nine-year-old said: "I thank God and my parents for this. I am very happy.
"I train three times a week at the academy and we have a match at the weekend.
"The amazing thing is, I have always been an Arsenal fan and I will work hard every day to make the first team."
Jayden Adetiba cites 22-year-old Nigeria international Alex Iwobi as the example he wants to follow at Arsenal, and also sees Cristiano Ronaldo as his idol.
"Ronaldo because of his hard work, and Iwobi because he was at the Arsenal academy at the age of seven and now plays for the first team," he added.
Jayden Adetiba's two older brothers are also promising footballers, with the oldest recently signing for Ebbsfleet United Academy and the other joining a local team.