Senator Mao Arukwe Ohuabunwa, the serving senator representing Abia North Senatorial District, has cried out on INEC, Abians, and the security agencies over the allegations and boasting of Dr. Orji Uzor Kalu, the Senatorial candidate of the All Progressives Congress (APC) for the forthcoming Senatorial election in Abia North. According to his statement, Kalu claimed the victory of APC is already a "done deal".
Speaking with newsmen today in a press conference, Senator Mao Ohuabunwa raised some issues that questions the integrity of INEC and security agencies of the state if the assertions by Dr. Orji Uzor Kalu concerning the forthcoming senatorial election in Abia North is true.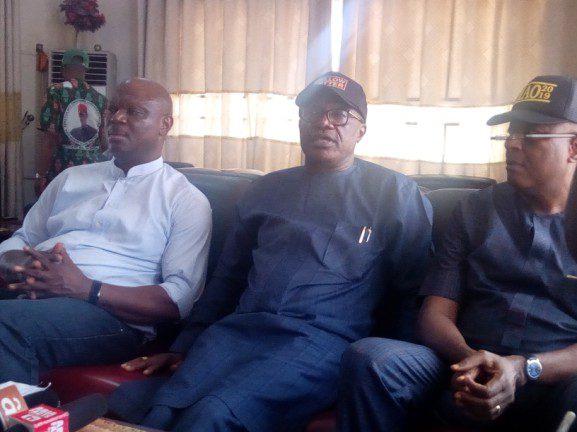 In his words:
He (Orji Uzor Kalu) has been boasting that he is in collaboration with the Vice Chancellor of Michael Okapara University of Agriculture, Umudike, and now he said he has the Police on his side. And I think as candidate we should be afraid of that list. I don't have that list, and if he has it then maybe INEC will explain how Orji Uzor Kalu got the list and which result is he parading or saying
He has also gone ahead to say that the military is under his control, and he has been boasting openly that the Brigade Commander is under his control, the AIG, the CP, in short all the security agencies
You remember that few days ago, he personally supervised the tearing down of billboards and posters in Nkporo, where he even said he is going to slap the present Deputy Governor. We have written a petition against that, initially we felt there was no point saying something about it but now the level of threat and boasting made us felt we should bring this to the knowledge of Nigerians, INEC, and the security agencies that one man cannot be going around terrorizing the whole place
You can remember that he also said he has INEC in his pocket, and he also has the military agencies in his pocket
Senator Mao also said that instead of Orji Uzor Kalu to channel his efforts campaigning for the forthcoming election, he is busy causing trouble here and there.
You cannot see him captaining, but we are campaigning and going round, selling ourselves, educating our people, but you cannot see him. But rather his planning and plotting that he is going to use federal might. Even at my house he said he is going to bring armoured car, that he has concluded with the military that they will place APC in front of my house on the day of the election
He then called and INEC and the security agencies to do the right thing.
We are not scared, but it is important the security agencies should know about this and checkmate their staffs, INEC should also know about this.
Also read: INEC Voting Procedures for the 2019 General Elections in Nigeria
He then concluded that INEC should ensure that we have a free and fair election in Abia state as a whole, He asked voters from Abia North and Abia state as a whole to come and vote, and they should not be scared.