Davido Bentley Bentyaga which costs him a whooping sum of 94 million Naira arrives, recently arrives Lagos in Nigeria. The popular Nigerian artiste shows off his recently purchased Bentley Bentyaga, as he announced that the N94 million bad toy has touched the ground of Nigeria after waiting for seven whole months.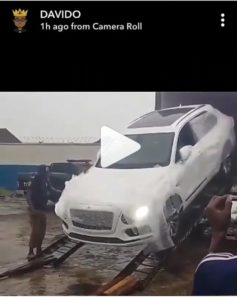 The Davido Bentley Bentyaga news started this year January when the Nigerian musician splashed 94 Million Naira on the proposed car. To prove its arribal in Nigeria, the singer shared a clip of how the car was driven out of the delivery truck as seen in the image above.
Also read: Olamide Launches Voice Of The Streets "VOTS" Television Station
It is quite obvious that Davido who recently emerged winner of the BET's Best International Act award has build a niche around talent and luxury. When the singer is not releasing a brand new track, he is flaunting his material and wealth.
David Adeleke, with the stage name "Davido", have great passion for cars and he normally goes extra mile when he decides to purchase an automobile or even a private jet. In the month of January 2018, he announced that he paid for a brand new Bentley Bentyaga which is said to cost N94 million. Seven months after his purchase, his automobile finally arrive Nigeria.
Also read: Skyline University: 5 Facts About The First Private University in Kano
It is quite clear that Davido can practically sped any amount of money on cars, as he recently bought his girl friend, Chiomia, a Porsche car worth 22 million Naira.
That is all about the Davido Bentley Bentyaga that recently arrived Nigeria after seven months of purchase. You can simply subscribe to this blog to get more latest news about Nigeria delivered straight into your inbox for free. Use the email subscription box found on this page to achieve that.