The Executive Governor of Imo State, Emeka Ihedioha, recently appointed new transition committee chairmen for the 27 local government areas in the state. This post contains the names of the new TC chairmen with the respective local government areas in Imo state where they are appointed to serve.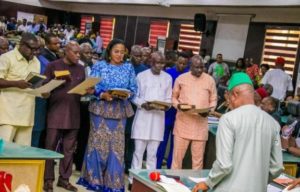 Also read: Chairmen and Deputy of the Transition Committees in the 17 Local Government Area of Abia State
Transition Committee Chairmen of the 27 Local Government Areas in Imo State
The full names of the TC chairmen and their respective local government areas in Imo state are as follows:
Aboh Mbaise – Jonathan Onyeneke
Ahiazu Mbaise – Sam Ahiarakwem
Ehime Mbano – Engr. Ben Nwaoluka
Ezinihitte Mbaise – Getrude Iroeme (Mrs)
Ideato North – Hon. Ernest Njesi
Ideato South – Ifeanyi Okwara
Ihitte Uboma – Barr. Maureen Onyekele (Mrs.)
Ikeduru – Dr.Anslem Opara
Isiala Mbano – NgoziOguike (Mrs.)
Isu – Nnamdi Nsoromotu
Mbaitoli – Ugo Canice Mba
Ngor Okpala – Hon. Charles Abara
Njaba – Obodoshaa Agwubuo
Nkwerre – Lawrence Nwadike
Nwangele – Okey Onyejiaka
Obowo – Hon. Jasper Chukwuemeka
Oguta – Hon. Hillary Eberendu
Ohaji Egbema – Hon. Damian Ezeruo
Okigwe – Hon. Paul Uche
Onuimo – Chief Silas Onyeiwu
Orlu – Hon. Aloysius Oluigbo
Oru East – Dympna Mbiamnozie (Mrs)
Oru West – Akunnakwe Kenneth
Orsu – Hon. Herbert Ubah
Owerri Municipal – Hon. Ebere Chukwuemeka
Owerri North – Solomon Onwuegbuchulam
Owerri West – Hon. Innocent Ekenma
If you are from Imo State or you need to know the names of the current TC chairmen of the local governments in Imo state, then the list above should get you acquainted. Subscribe this site to more latest facts about Nigeria.