The Nigerian Bar Association (NBA) will on January 30, 2023, host all presidential candidates of the forthcoming election at its State of the Nation Dialogue.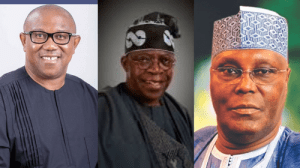 According to a statement signed by the NBA President, Yakubu Maikyau (SAN), on Thursday, January 19, the candidates' discussions will centre on security, the economy, and the administration of justice.
Maikyau talks about the importance the dialogue and stated that it is necessary because the legal profession could not afford to fail to discharge its primary responsibility of providing leadership and guidance on matters that affect the socio-economic and political development of the country.
Also read: I Will Eliminate Corruption if Elected into Power – Bola Ahmed Tinubu
"In doing this, we must continue to demonstrate a high regard for professional and ethical standards to earn the respect of the government and the people.
"We are set to go to the polls in about five weeks, to elect our representatives who will run the affairs of government, executive and legislative, for the next four years. For this purpose, we have the responsibility to provide guidance and leadership to the Nigerian people, from the point of view of our privileged position as members of the legal profession," he said.
The NBA President recalled his inaugural address on August 26, 2022, where he noted that the legal profession has what it takes to precipitate the leadership that will bring the succour and freedom Nigerians deserve, and added that the body cannot afford to shirk from that responsibility.
In that address, he was quoted to have said, "The need to continuously engage government at all levels is necessary to, amongst other things; generate discussions that will provide Nigerians with sufficient information to guide them in making their choice of persons to occupy elective offices in the upcoming general elections. Nigerians must be satisfied, given the concrete realities of our nation, with the practical solutions that are being proposed by those seeking elective offices as they relate to the current security, economic, and political challenges."