Exercise Atilogwu Udo 1, a Military exercise which is aimed at curbing the menace or crime in the 5 South Eastern states and Cross River was officially flagged off in Abia state in the early hours of Friday, November 1, 2019.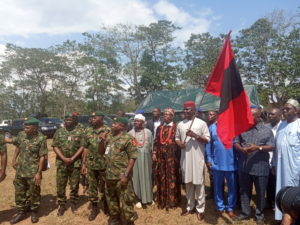 Present at the ceremony is the Governor of Abia State, represented by his Deputy, Rt. Hon. Ude Oko Chukwu. The Chief of Army Staff was also represented by the Chief of Training and Operations, Major General Enobong Udoh. The traditional rulers of Abia State was also duly represented in the occasion.
The Military exercise is set to run from November 1 to December 23, 2019.