This page contains the NYSC anthem lyrics from stanxas 1 to 3. You will also get to see 10 things you might know about the composer of the NYSC anthem, in the person of late Oluwole Oladejo Adetiran. Read on, and get the full information.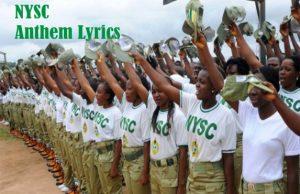 Oluwole Oladejo Adetiran NYSC Anthem Lyrics
Stanza 1
Youths obey the clarion call
Let us lift our nation high
Under the sun or in the rain
With dedication and selflessness
Nigeria is ours, Nigeria we serve.
Stanza 2
Members, take the great salute
Put the Nation first in all
With service and humility
NYSC for the noble youths
Make Nigeria a great nation.
Stanza 3
Far and near we come to serve
And to build our fatherland
With oneness and loyalty
NYSC for unity
Hail Nigeria, our great nation.
Also read: How to Locate All NYSC Orientation Camps in Nigeria
10 Things You Might Not Know About Late Oluwole Oladejo Adetiran
Adetiran studied music at the University of Nigeria, Nsukka.
The NYSC anthem was ideated and composed in 1984 when he was a corps member in Oyo State.
He was a leader of an NYSC group called 'the anthem group' which was saddled with the responsibility of composing an anthem by the then chief inspector.
Adetiran claimed that he rendered the anthem with a special choir before presenting it.
He still has the manuscripts of the NYSC anthem in his residence to date
He was the head of the Polytechnic Ibadan Music Department between 2003 and 2007 and retired as a lecturer in 2008.
He dies on May 6th 2022.
He was the national Music Director of the Celestial Church of Christ where he worships before his death.
He suffered from hypertension, diabetes and prostate cancer which he has been battling since 2018.
He was paid a commendation visit by the NYSC Director-General, Brig. Gen. Shuaibu Ibrahim on July 15th, 2021 after the latter heard about his health condition.
If you must have learnt the NYSC anthem lyrics as a result of the information you found on this, you can gladly share this post with your friends and colleagues who might need it.