Having in mind the importance of community and interacting with fellow users, Nigerian Fact has decided to set up a Telegram group where users like you can easily join and interact with one another and also with the staffs of this wonderful platform. You are highly welcome to join the Nigerian Fact Telegram Group.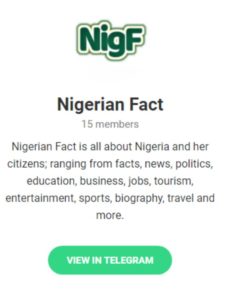 It is also important for you to note that Nigerian Fact does not accept any form of illegal or immoral discussions/chat/conversations among members of the group. So, you should adhere strictly to this rules in order to avoid been evicted from the Nigerian Fact Telegram Group.
We need a better Nigeria, and it is you and I that can make it work. Discussions in the group are strictly limited to topics that will benefit individuals and the country at large.
Must read: Interesting Facts about Nigeria that are Fun, and Important for You to Know
So if you are on Telegram and you want to be part of our community, simply join the Telegram Group for Nigerians and enjoy the best of it. We can't wait to have you in. Also invite as many friends of yours that are Nigerians and those who love Nigeria.
Thanks!