The Federal Government of Nigeria has enacted a plan to empower 774,000 Nigerians across the 774 local government areas of the federation. The exercise is been carried out through the National Directorate of Employment (NDE). If you are one of those searching for information about the NDE recruitment 2020, then this article is just for you. This page will give you information concerning the NDE empowerment exercise 2020. You will get to see all requirements needed for your registration, and the various NDE offices and addresses in Nigeria. You can also subscribe to this site so you can get further updates on recruitments and job opportunities in Nigeria.
Also read: N-Power Recruitment 2020 Requirements and Application Portal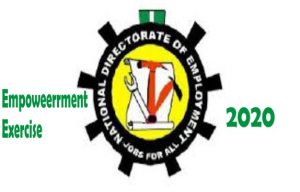 About the National Directorate of Employment (NDE)
The National Directorate of Employment (NDE) was established in November, 1986. The body began operations fully in January, 1987. The birth of the Directorate was as a result of the effects of the economic recession of the 80's which led to a drastic reduction in capacity utilization and consequent outright closure of industries in Nigeria. Equally, other macro-economic policies of the government of the day such as structural adjustment programme (SAP), devaluation of the Naira, privatization and commercialization of the economy, etc. resulted to massive job losses in both the public and private sectors of the economy. According to the Annual Report of the NDE 2013, unemployment rate had risen from 4.3% in 1985 to 7.0% at the beginning of 1987 because of the situation earlier stated.
As a direct response to the rising trend of unemployment, the then military government headed by General Ibrahim B. Babangida, set up a committee headed by Mr. Stephen O. Chukwumah which was later to be popularly referred to as the Chukwumah Committee. The Committee was charged with the task of proffering a sustainable interventionist solution to mitigate the rising levels of unemployment in Nigeria. The Committee established that the informal sector of the national economy had operators and employees who were mainly low skilled, semi-skilled and unskilled. They constitute about 90% of the workforce. This situation therefore, placed skills acquisition and training on the front burner of employment creation. Following the report of the Chukwumah Committee, the Federal Government established the NDE under decree No. 29 of 1989 which was replaced with ACT, CAP 250 of the Laws of the Federal Republic of Nigeria, 1999
NDE Empowerment Exercise 2020 Requirements
The major requirements you need to possess before going to any NDE office in your state are easily attainable. Note that you must present all of these information during registration so that you can be among the 774,000 beneficiaries when it is finally announced. They are as follows:
Name
Sex
Phone number
Account number
Bank name
Local Government of Origin
Age
Status
Means of Identification (voters card of national ID card)
Your political ward
NDE Offices and Their Address in Nigeria Where Your Can Register for the Ongoing Empowerment Exercise
ABIA- Employment house, Aba road Amuzuta, old Umuahia, P.O box 7247, Umuahia.
ADAMAWA- behind former state ministry of works and housing off Kashim Ibrahim Road, Jjimeta, Yola
AKWA-IBOM – 51 Obioimo street, off oron Road, PMB 1044, Uyo
ANAMBRA – 35 NnamdiAzikwe Avenue P.M.B 5059, Awka.
BAUCHI – off gombe road, behind the chief magistrate court kofar E-irbauchi
BAYELSA – 16 imgbi Rd, PMB 52 Amarata – Yenagoa
BENUE – Km 8, Makurdi- Oturkpo Road Makurdi.
BORNO – Sir Kashim Ibrahim Road PMB 1647, Maiduguri
CROSS RIVER – Federal Scretariat Complex, Okpanam.
DELTA- Ground floor, Fed secretariat complex, Okpanam Road p.o Box 1046, Asaba.
EBONYI- 11b Ejiofor Street, PMB 092 Abaliki.
EDO-222A upper mission road P.O Box 8455, Benin City
EKITI -78 Ajilosun street Ado Ekiti.
ENUGU–22/24 Ridgeway GRA P.M.B 01520, Enugu.
GOMBE – No 3 Kano Road,New Commercial Area Gombe.
IMO – Federal secretariat complex, Ground Floor, Owerri, Imo state.
JIGAWA- Federal Government Secretariat 2nd Floor, Dutse.
KADUNA – Off Yakubu Gowon Way Near NTA, GRA Kaduna
KANO – After CTV 67 ilotoro-Maiduguri road PMB 3488, Kano.
KATSINA – No. 1 Justice Moh'd Bello Rd G.R.A Round about P.M.B 4952 Ilorin.
KEBBI – 19 MurtalaMoh'd Rd P.M.B. 1077, BirninKebbi
KOGI – No 8 Janet Ekundayo Rd GRA P.M.B 1037 Lokoja
KWARA – Federal Secretariat Complex 8th Floor, Fate Road, P.M.B 4952 Ilorin
LAGOS – No. 7 BarikisuIyede Street Yaba
Liaison Office – Federal Secretariat Complex Phase II, Ikoyi-Lagos
NASSARAWA – No. 18 Jos Rd. Behind Natson Petrol Station Agwai Hotel Rd. Lafia
NIGER – Dr. LadiKwali Rd. Off IBB Rd. Adjacent to NTA P.M.B 16, Minna
OGUN – Federal Secretariat Complex OkeImosan, Kobape Rd. P.M.B 3048. Ibara, Abeokuta
ONDO – 26, Ilesha Road P.M.B 612 Near Akure South Local Govt. Secretariat, Akure
OSUN – Behind Oshogbo Grammar School Okeifa Oshogbo
OYO – Federal Secretariat Complex Ikolaba Area, P.O Box 26115 Secretariat Ibadan
PLATEAU – No. 5 Narauguta Avenue P.O Box 6853, Anglo Jos
RIVERS – 13, Finima Street, P.M.B 5145 Port-Harcourt
SOKOTO – No 7 Dendo Road P.M.B 2240 Sokoto
TARABA – 143 Hammaruwa Road P.M.B 1051 Jalingo
YOBE – Njiwaji Layout P.M.B 1028, Damaturu
ZAMFARA – 3 YahayaAbdulkarim Road, Opp. Takin-RuwaSabon-GariGusau
FCT. ABUJA – Plot 2014, Cotonou Crescent Zone 6, Wuse Abuja
The Corporate Headquarters is[/b] at No 1, plot 1529, Nouakchott Street, Zone 1, Wuse, PMB 104 Garki Abuja.
The NDE empowerment exercise 2020 is already ongoing. You can use the address above to easily locate the NDE office in your state to get further directives. Kindly share this article on various social media platforms before you leave because you never know that friend of yours that might need it.