With the ongoing speculation about the break up in their relationship, little did we know that the ex BBNaija duos are actually having something else up their sleeves. This surprise came when both lovebirds made an announcement of their joint reality TV show – the Mercy and Ike Reality TV Show. Contrary to what most people are insinuating about their relationship, it appears this two of our favourite reality TV stars has been spending lots of time behind the social media world.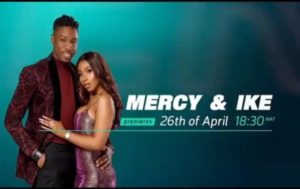 Sp, what else will you really want to know about the Mercy and Ike Reality TV Show? For now, the information are limited. But all you need to know now is that the premiere of the reality TV show is slated for April 26, 2020 at 18:30 WAT.
In the trailer for the reality TV Show, you will see Mercy reminding Ike about a choice she asked him to make. What choice do you think it is? Well, I guess the only way we can find out is to wait for the premiere of the show.
Also read: See the Main Reason Why Tacha Ended Her Contract with Tee Billz
As we keep our fingers crossed, patiently waiting for April 26th to find out on Africa Magic Showcase DSTV Channel 151, we sure hope the Mercy and Ike Reality TV Show will be exciting and drama-filled.