Customers of First Bank Nigeria Plc in Umuahia, the capital city of Abia state were stranded on Tuesday, 10th December 2019, following the sealing of its main branch located in Library Avenue, Umuahia.
The gate of the bank presmises was under lock and key when correspondent of Nigerian Fact visited the branch. Many customers who had arrived the bank for bank transactions were seen wondering what might have led to the sealing of the bank.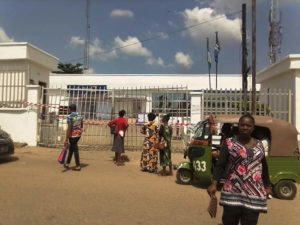 Investigation from our correspondent revealed that the bank was sealed following a Court order from Abia state High Court. The Court had ordered the Abia state Board of Internal Revenue to seal the bank for failing to pay tax amounting to N5,916,568. The Court order read in Part,
"Upon reading the original motion on notice under section 39(1)(3) and (4) of the Abia Board of Internal Revenue of 2008 as amended, order 3 rule 12 of the Abia state high Court proceeded rules affidavit in support an annexures court affidavit further hearing Obike Onyemere Eqs. of counsel for the claiminat and E.M Ichie counsel for defendant."
"It' is here order that the defendant is to remit or pay to the claimant through the Abia PLUC outstanding sum of N5,916,568 in respect of your 22 branches in Abia for 2018 – 2019. That warrant of distress be issued against the premises of the defendant for failure to remit/pay the sum of money above".
Some of the bank customers on seeing the notice were seen discussing in small groups asking if their money were safe with the bank.