Talking about the most populous nation in East Asia which is China, with a population of over 1.4 Billion people. You should also known that the Chinese Government is trying their possible best to improve the relationship with the Nigerian government basically in the aspect of administration and business policies which has been growing day by day. This post will address all you need to know about Chinese Visa application and how to apply for a Chinese Visa in Nigeria.
Types Of Chinese Visa
In order to travel to China from Nigeria, there are about four choices of Visas types you can apply for depending on the major reasons behind your travelling to China. They Chinese Visa types are as follows:
1.    Business "F" Visa
This type of Visa is issued to individuals going to China mainly for business purposes, just as the name implies.
2.    Transit "G" Visa
This type of Visa is best suitable for those who are interested in a short time trip to China. Basically 15 days or less.
3.    Students "X" Visa
This type of Visa is for individuals travelling to China for studying.
4.    Visa for employment/work "Z "Visa
This type of visa is for business owners or those who are travelling to work in China. This type of Visa requires extra process as you will be required to provide details and evidence about the company you will be working for or the in-depth details about the type of business you wish to run in China independently.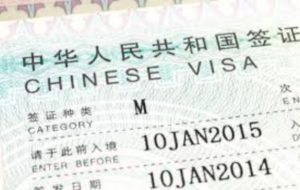 Chinese Visa Application Requirements
Below are the information you need to complete your application
Your Chinese visa application form also with your recent UK sized blue, white or red background passport photograph affixed.
Letter from applicant company or business if you're going for business
The original applicant's international Nigerian passport alongside with two photocopies of the passport.
Evidence of Accommodation reservations proof you have made in China
Your Visa notification form which was issued by the authorized unit in China
Your recent bank account statement
Original alongside with the photocopy of applicant's Certificate of Incorporation issued by Corporate Affairs Commission (for business owners)
The Letter of invitation sent to you from your friend, family member or business associate in China. Or evidence showing that you were invited by a Chinese firm
Original JW202 form issued to you by the Chinese government
Applicant sponsor letter and guarantor's forms
Physical examination of applicant if he or she plans up to 1 year
How To Apply For a Chinese Visa in Nigeria
Before you can be eligible for a China Visa, you will need to have an international passport, and if you do not have one, you will need to sign up for one. The international passport is mandatory for everyone who have an intention of travelling out of the country. You can get an international passport by visiting any immigration office nearest to you, until have gotten an international passport you are not eligible for a Chinese Visa.
Once you have gotten an international passport, you can now proceed to download the Chinese Visa application form online at their website from HERE. and fill accurately as possible. A single mistake will result in outright rejection. After you must have filled the form successfully, you are required to visit the embassy for submission in person. The Chinese Embassy is located in Aguiyi Ironsi Street, Maitama, Abuja, Nigeria.
After a successful submission of your Chinese Visa application form, you will be scheduled for an appointment which you must attend in person on the very date given. Remember to dress corporate when going for the appointment and be smart to answer questions swiftly as possible with accurate answers.
Collecting Your Chinese Visa
After you have concluded the above steps and had passed through an interview at the embassy, you can either fail or pass the interview. If you pass the interview, you are expected to appear in person at the Embassy on the pickup date to collect your Chinese visa.
Also read: Russian Visa Application in Nigeria; Requirements and How To Apply
Chinese Embassy in Nigeria
Below are the addresses of the Chinese Embassy in Nigeria
Chinese Embassy in Abuja
Address: 34 AguiyiIronsi Street, Maitama, Abuja
Tel: +234-9-4620645
Email: chinaemb_ng@mfa.gov.cn
Chinese Consulate in Lagos
Address: 161A Idejo Street, P.O. Box 70510, Victoria Island, Lagos
Tel: +234-1-2715585
Email: chinaconsul_lg_ng@mfa.gov.cn