The Abia State Signage and Advertisement Agency (ABSAA) has issued guidelines on the use and display of campaign materials across the State for the 2023 general elections. In a release signed by the ABSAA General Manager, Hon. Tony Otuonye, the Agency warned against indiscriminate deployment of campaign posters and defacing of public utility structures with posters, stating that defaulters would face applicable penalties in line with extant laws. Below is the full text of the release: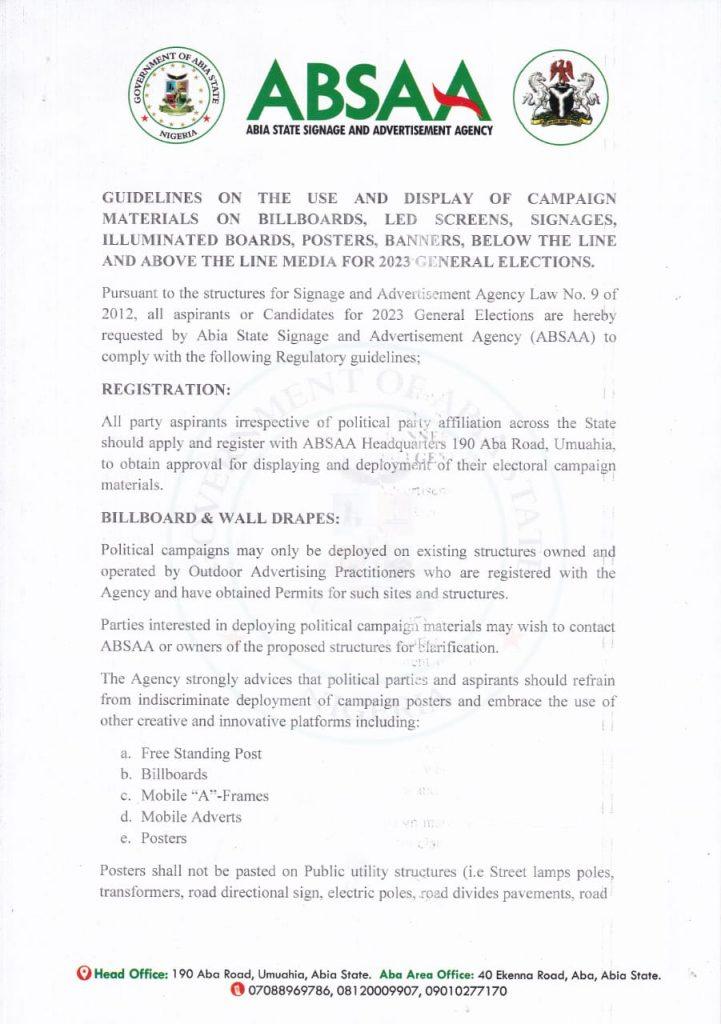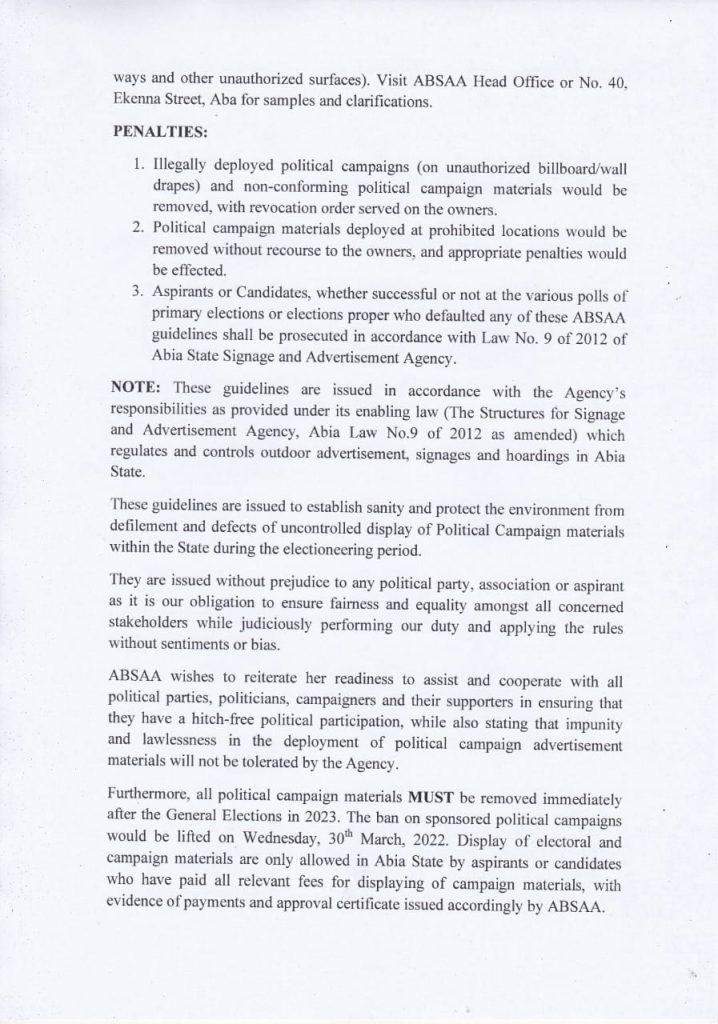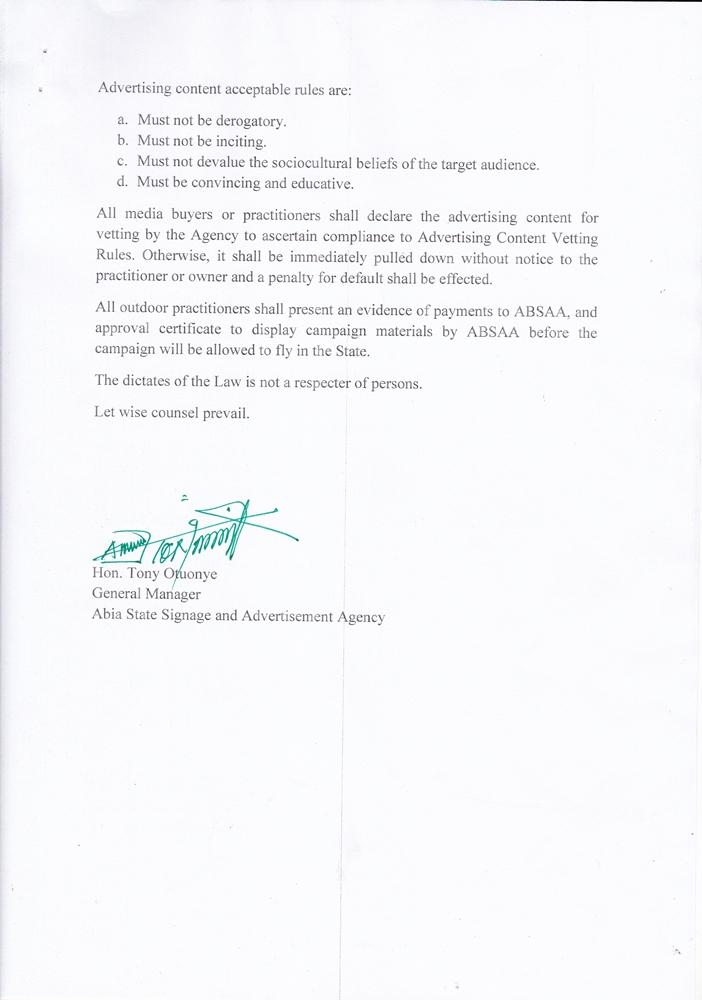 GUIDELINES ON THE USE AND DISPLAY OF CAMPAIGN MATERIALS ON BILLBOARDS, LED SCREENS, SIGNAGES, ILLUMINATED BOARDS, POSTERS, BANNERS, BELOW THE LINE AND ABOVE THE LINE MEDIA FOR 2023 GENERAL ELECTIONS.
Pursuant to the structures for Signage and Advertisement Agency Law No. 9 of 2012, all aspirants or Candidates for 2023 General Elections are hereby requested by Abia State Signage and Advertisement Agency (ABSAA) to comply with the following Regulatory guidelines;
REGISTRATION:
All party aspirants irrespective of political party affiliation across the State should apply and register with ABSAA Headquarters, 190, Aba Road, Umuahia, to obtain approval for displaying and deployment of their electoral campaign materials.
BILLBOARD & WALL DRAPES:
Political campaigns may only be deployed on existing structures owned and operated by Outdoor Advertising Practitioners who are registered with the Agency and have obtained Permits for such sites and structures.
Parties interested in deploying political campaign materials may wish to contact ABSAA or owners of the proposed structures for clarification.
The Agency strongly advices that political parties and aspirants should refrain from indiscriminate deployment of campaign posters and embrace the use of other creative and innovative platforms including:
a. Free Standing Post
b. Billboards
c. Mobile "A"-Frames
d. Mobile Adverts
e. Posters
Posters shall not be pasted on Public utility structures (i.e Street lamps poles, transformers, road directional sign, electric poles, road divides pavements, road ways and other unauthorized surfaces). Visit ABSAA Head Office or No. 40, Ekenna Street, Aba for samples and clarifications.
PENALTIES:
1. Illegally deployed political campaigns (on unauthorized billboard/wall drapes) and non-conforming political campaign materials would be removed, with revocation order served on the owners.
2. Political campaign materials deployed at prohibited locations would be removed without recourse to the owners, and appropriate penalties would be effected.
3. Aspirants or Candidates, whether successful or not at the various polls of primary elections or elections proper who defaulted any of these ABSAA guidelines shall be prosecuted in accordance with Law No. 9 of 2012 of Abia State Signage and Advertisement Agency.
NOTE: These guidelines are issued in accordance with the Agency's responsibilities as provided under its enabling law (The Structures for Signage and Advertisement Agency, Abia Law No.9 of 2012 as amended) which regulates and controls outdoor advertisement, signages and hoardings in Abia State.
These guidelines are issued to establish sanity and protect the environment from defilement and defects of uncontrolled display of Political Campaign materials within the State during the electioneering period.
They are issued without prejudice to any political party, association or aspirant as it is our obligation to ensure fairness and equality amongst all concerned stakeholders while judiciously performing our duty and applying the rules without sentiments or bias.
ABSAA wishes to reiterate her readiness to assist and cooperate with all political parties, politicians, campaigners and their supporters in ensuring that they have a hitch-free political participation, while also stating that impunity and lawlessness in the deployment of political campaign advertisement materials will not be tolerated by the Agency.
Furthermore, all political campaign materials MUST be removed immediately after the General Elections in 2023. The ban on sponsored political campaigns would be lifted on Wednesday, 30th March, 2022. Display of electoral and campaign materials are only allowed in Abia State by aspirants or candidates who have paid all relevant fees for displaying of campaign materials, with evidence of payments and approval certificate issued accordingly by ABSAA.
Advertising content acceptable rules are:
a. Must not be derogatory.
b. Must not be inciting.
c. Must not devalue the sociocultural beliefs of the target audience.
d. Must be convincing and educative.
All media buyers or practitioners shall declare the advertising content for vetting by the Agency to ascertain compliance to Advertising Content Vetting Rules. Otherwise, it shall be immediately pulled down without notice to the practitioner or owner and a penalty for default shall be effected.
All outdoor practitioners shall present an evidence of payment to ABSAA, and approval certificate to display campaign materials by ABSAA before the campaign will be allowed to fly in the State.
The dictates of the Law is not a respecter of persons.
Let wise counsel prevail.

Hon. Tony Otuonye
General Manager
Abia State Signage and Advertisement Agency